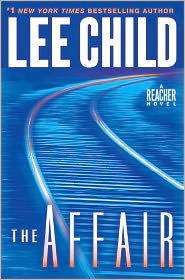 Lee Child's The Affair, the 16ththriller in the bestselling Jack Reacher series, finally delivers the origins of the idealistic (and lethal) Reacher persona.  When the series started in 1997 with The Killing Floor, the hero was already a former Army M.P.  At last, we find out why he had to leave the Army.
The first lines of Child's novels always get right to the point.  In The Affair, Reacher enters the Pentagon:
"I remember the date, of course.  It was Tuesday, the 11th of March, 1997,and it was the last day I walked into that place as a legal employee of the people who built it."
The story that follows is a traditional thriller, spiced with the beginnings of Reacherisms.  The Affair is laced with tiny epiphanies, like the day Jack Reacher discovered the half-size travel toothbrush that he always carries with him.  And the day he discovered the absolute practicality of buying a replacement set of clothes instead of doing laundry.  If you've never indulged in this series, you'll still appreciate the quirky humor and military precision.  If Reacher is one of your favorites, you'll love the little details that started in 1997.
Yes, of course, there's a woman and some gratuitous violence (nobody does a head butt like Reacher).  And they are presented- as always- with wit and efficiency.  This book is a fabulous look into the code of honor that embodies Reacher.